Freshco Ontario: Kiri Cream Cheese Spread $1.50 After Coupon This Week
July 29th 2022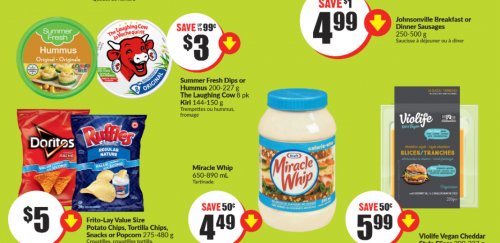 This week Freshco Ontario has Summer Fresh Dips or Hummus, The Laughing Cow Cheese, and Kiri Cream Cheese advertised for $3 each.
If you visit GoCoupons.ca through the link below you will find that there are a couple of coupons currently available for the Kiri Cream Cheese. One is for $1 off the purchase of one, and one is for $3 off the purchase of two. If you use the coupon for $3 off the purchase of two, you will pay $1.50 each for the cream cheese.
If you don't have a printer or if you would prefer, you may also use the offer as cash back instead of printing the coupon. You would purchase the product first and then upload your receipt. You may use either the coupon or the cash back, but you may not combine the two.
Click here to view this offer in the Freshco Ontario flyer.
Click here to visit GoCoupons.ca for Kiri offers.
This Coupon was used 14 times.