Giant Tiger Canada Coupons
FIND COUPON BY STORE/BRAND
← View other Giant Tiger Canada Coupons
Giant Tiger Canada: Cap'n Crunch $2.25 After Coupon + More Deals
June 18th 2022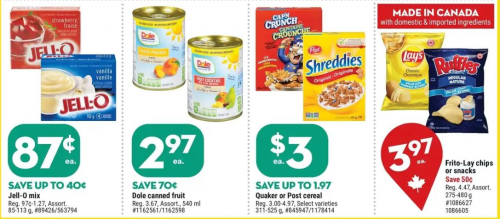 Save up to $1.97 on Quaker or Post cereal this week at Giant Tiger, where the cereal is on sale for $3. If you purchase the Quaker Cap'N Crunch, Tasty Rewards has a printable coupon available for 75 cents off, and you will pay just $2.25 for a box with the coupon. Click the link at the bottom of the post for the coupon.
Here are some other deals at Giant Tiger this week, until June the 21st:
Belmont Burgers $6.97
3lbs Royal Gala Apples $3.97
D'Italiano Bread or Buns $2.27
Haagen-Dazs Ice Cream $3.94
Kraft Salad Dressing or Diana Sauce $1.97
Folgers Ground Coffee $7.88
Sliced White Mushrooms or Dole Bagged Garden Salad $1.88
Piller's Meat Sticks $6.97
Litehouse Dressing $2.88
Boursin Cheese $4.27
Prego Pasta Sauce $1.87
Sponge Towels Ultra Pro $5.97
Blackberries, Raspberries, or Blueberries $2.47
Nestle Pure Life Spring Water 12pk $1.47
3pk Rainbow Peppers $2.88
1lb Asparagus $2.88
Beatrice Chocolate Milk 1L $1.47
Bolthouse Farms Juice $3.97
Laurie's Cabbage Rolls $5.98
Click here to view the Giant Tiger flyer for this week. 
This Giant Tiger Coupon was used 51 times.
← View other Giant Tiger Canada Coupons
← View other Giant Tiger Canada Coupons