Kellogg's Canada Promotions: Buy Two Specially Marked Boxes and Get a Coupon for a Free Box
January 19th 2023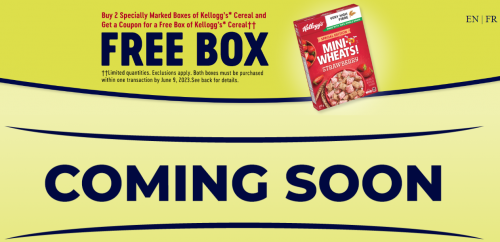 Kellogg's Canada has a new promotion coming soon! Buy two specially marked boxes of Kellogg's cereal and you will get a coupon for a free box of cereal. The promotion will begin on February the 16th, 2023, so if you make any purchases in the meantime you can save your receipts until then. Visit the link below beginning the 16th of February to upload your receipts.
Purchases must be made in one transaction by June the 9th, 2023, and uploaded by July the 7th. A total of 50,000 coupons are available for the promotion, and they will be mailed out within 3-5 weeks. The expiry date of the free coupon will be September the 30th, 2023, and a total of five claims may be made per household.
Here are the qualifying Kellogg's cereals this time around:
Kellogg's Corn Flakes Cereal – 600 g
Kellogg's Corn Pops Cereal – 515 g
Kellogg's Mini-Wheats Brown Sugar Flavour Cereal – 650 g
Kellogg's Mini-Wheats Original Cereal – 650 g
Kellogg's Special K Vanilla Almond Cereal – 570 g
Kellogg's Two Scoops Raisin Bran Cereal – 625 g
Kellogg's Rice Krispies Cereal – 560 g
Click here for details and to begin uploading your receipts on February the 16th.
This Coupon was used 15 times.