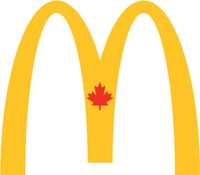 McDonald's Canada Canada Coupons
FIND COUPON BY STORE/BRAND
← View other McDonald's Canada Canada Coupons
Li'L DONUTS at McDonald's Canada
July 6th 2020
Li'L DONUTS
Apple Fritter- This light and fluffy apple fritter is made with 14% real apples and layers of cinnamon to create a harvest of flavour in every bite.
Boston Cream- This soft donut is filled with Bavarian cream, topped with a satisfying blanket of chocolate icing and chocolate drizzle.
Maple Caramel- Decadently delicious, this donut is filled with caramel flavoured cream, hugged in maple icing and drizzled with vanilla frosting.
Sprinkle- Feed your inner child with this playfully chewy donut, glazed in sweet pink vanilla flavoured icing and rainbow sprinkles.
Strawberry Jelly- This donut is delicately dusted with powdered sugar and bursts with a pop of strawberry flavoured filling.
Enjoy these treats with your favourite McCafé beverage for a limited time.
This McDonald's Canada Coupon was used 149 times.
← View other McDonald's Canada Canada Coupons
← View other McDonald's Canada Canada Coupons