Lilydale Canada Email Newsletter Coupon: Save $1.50 On Lilydale Dinner or Smoked Turkey Sausage
May 25th 2023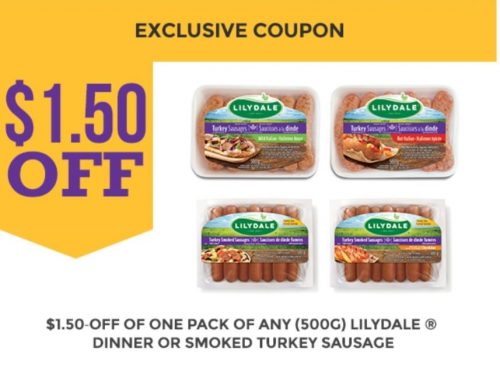 If you are signed up for the email newsletter from Lilydale Canada, make sure that you check for their latest email because it contains a new printable coupon! This edition of the newsletter features a coupon for $1.50 off the purchase of one 500g package of Lilydale Dinner or Smoked Turkey Sausage.
Beginning today Metro Ontario has these sausages advertised for $6.49, however they may even be cheaper elsewhere. Metro isn't particularly fond of printable coupons either, so you might want to price match or try to find the product elsewhere.
These coupons from Lilydale can only be printed from the link in the email newsletter, so be sure that you sign up now so that you don't miss out on the next newsletter.
Click here to sign up for emails from Lilydale Canada. 
This Coupon was used 5 times.