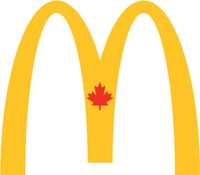 McDonald's Canada Canada Coupons
FIND COUPON BY STORE/BRAND
← View other McDonald's Canada Canada Coupons
McSummer Bevi NEW at McDonald's Canada
April 7th 2021
Let the Sunhine in with these Fresh Seasonal Beverages!
NEW *Red Raspberry Slushie- a frozen beverage with the sweet taste of raspberry.
NEW* Pink Lemonade Slushie - a classic sweet and sour taste of pink lemonade.
Tropical Coconut Pineapple Real Fruit Smoothie is made with real fruit coconut and pineapple juice blended with low-fat yogurt blended with ice.
At participating locations for a limted time where prices may vary.
This McDonald's Canada Coupon was used 213 times.
← View other McDonald's Canada Canada Coupons
← View other McDonald's Canada Canada Coupons