← View other McDonald's Canada Canada Coupons
Summer! Drinks at McDonald's Canada
May 24th 2021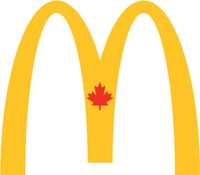 Don't let the LockDown Rules mak e your feel Blue! Feel NEW! Order your Sunshine here with these Fantastic Drinks!
$1 All Day Favourites Menu-Medium Iced Coffees or medium ice cold Coca‑Cola fountain beverages.
$2 Smooth Like Summer Menu- Tropical Coconut Pineapple Smoothie.
$2 Frappé All Day Menu- Medium Coffee Iced Frappé or Vanilla Chai Iced Frappé.
$2 Super Chill Slushies Menu-Medium Pink Lemonade Slushie or Red Raspberry Slushie.
At participating locations summer 2021.
This McDonald's Canada Coupon was used 1071 times.
← View other McDonald's Canada Canada Coupons
← View other McDonald's Canada Canada Coupons