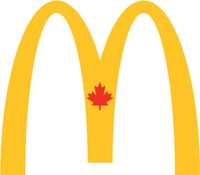 McDonald's Canada Canada Coupons
FIND COUPON BY STORE/BRAND
← View other McDonald's Canada Canada Coupons
Your Faves Menu! at McDonald's Canada
August 1st 2020
6-Piece Chicken McNuggets- Made with 100 per cent seasoned chicken breast.
Big Mac-Two beef patties, special sauce, lettuce, processed cheddar cheese, pickles and onions on a toasted sesame seed bun.
McChicken-Breaded seasoned chicken and crisp lettuce, topped with mayo-style sauce.
Filet-O-Fish-Crispy-fried fish topped with processed cheddar cheese and tangy tartar sauce on a lightly steamed bun.
At participating locations for a limited time.
Offer not valid for delivery orders.
This McDonald's Canada Coupon was used 643 times.
← View other McDonald's Canada Canada Coupons
← View other McDonald's Canada Canada Coupons